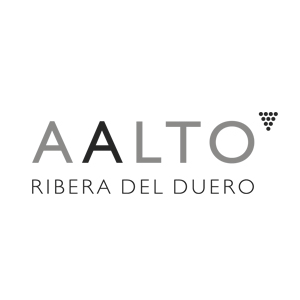 The AALTO project was founded in February 1999, in the prestigious winemaking region of Ribera del Duero (Spain). The foundational aim in AALTO was to make a wine that shows a different personality, from old vineyards a faithful reflection of distinct locations, blending them at the end of the aging process to obtain balance and complexity. In the Ribera del Duero Appellation, time and the legacy of nature have endowed all this area with exceptional soils for the vines cultivation. Throughout its 115 km of extension, the Douro River has created a special orography with a main valley and small ones formed by its affluents. It favors the existence of different microclimates according to the orientation and altitude of the plots in which the strains are planted. The slopes and the hillsides facilitate the drainage of the soils avoiding their ponding that along with a climatology marked by the contrasts, which directly affect the vineyards, endow them a character and strength that make them unique.
The Winery
The production of our AALTO and AALTO PS wines takes place in our own facilities located in a characteristic plot belonging to the municipality of Quintanilla de Arriba (Valladolid).
The building design hosts five different levels: three of them are aboveground and two of them are underground. The vinification process is carried out using the law of gravity, which begins at the top of the building and finishes with the bottling at the bottom. A process that lets respect the exceptional quality and all the nuances of the Tinto Fino grape variety throughout the winemaking process.
The Vineyards
Nowadays the winery controls 130 hectares of old vines of indigenous clones of Tinto Fino, scattered in more than 200 plots located in 9 different locations (or villages), of Ribera del Duero Appellation.
Due to the different altitudes and climatology, the vineyards of each location have different optimal dates for the ripening process and they are individually harvested. Each vineyard is grown up following the strict guidelines of winemakers throughout the year, without herbicides nor chemical fertilizers, short pruning and with all growing operations focused on quality. The age of the vineyards ranges between 40 and 100 years old, with a low yield and
exceptional quality.
The grapes that come from each location, receive an individual treatment: each location is separately harvested, and is kept separate during the fermentation and aging processes in barrels, being blended at the end of the procedure to obtain AALTO and PS.
Share